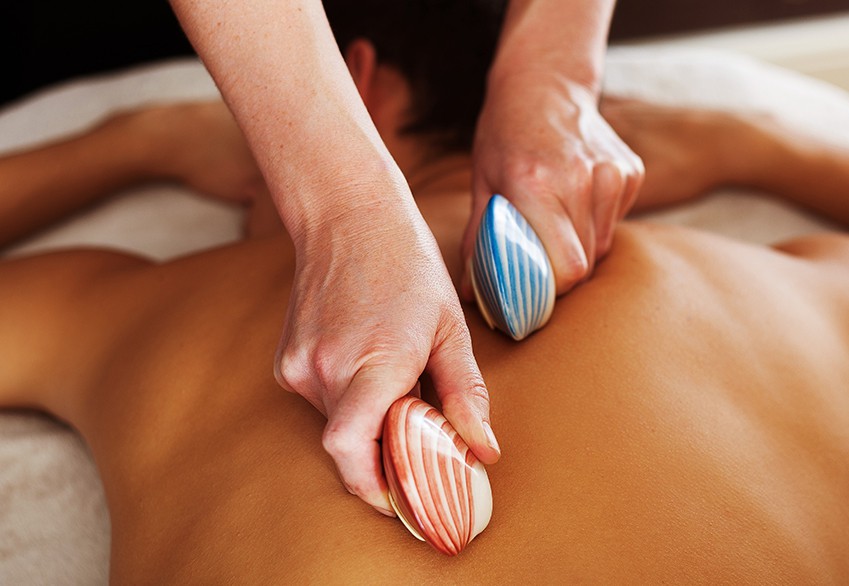 Lava Shells
Hailed by Vogue Magazine as "the new hot stones" as well as getting Sir Richard Brandon's seal of approval. Lava Shell Massage is quickly becoming one of the most popular massage treatments in beauty salons and spas. Lava Shells are the world's first self-heating massage tool. A patented, natural, biodegradable heat technology is incorporated into the Lava Shell which then emits heat for over one hour, allowing therapists to provide a continuous and seamless body massage of heat and touch. Due to the Lava Shells' unique shape and angles they become an extension of the therapist's hands, deploying deeply therapeutic relief to where it is needed. Perfect for all industry professionals and used by mobile therapists, salon and spas.
(Fun Fact: Richard Branson was so impressed with Lava Shells he included the treatments in his spa on Necker Island!)
Qualifications
To attend a lava shell full body training course you must be nearing completion or already qualified in CIBTAC Body Massage with Anatomy & Physiology, NVQ Level 3 / Diploma in Body Massage with Anatomy & Physiology (or equivalent).
Type:

Short Intensive Course

Tuition:

£150.00

Requirements:

£55.00 Student Kit

Examination Fees:

0.00
Start Date:

Sun, 23rd September 2018

Day(s):

Sunday

Time:

9.30am - 5.30pm
What are Lava Shells?
Lava Shells are Tiger Striped Clam Shells from the South Pacific. When filled with a combination of natural minerals and salt water they heat up, allowing the therapist to deliver a seamless and effective massage. It is an amazing experience which can be tailored specifically to a client's particular needs.
Why choose Lava Shells?
Marine polished sea shells or handcrafted porcelain shells glide smoothly over your body providing a seamless massage of heat and touch. The natural exothermic reaction is what keeps the shells hot and a lot longer than stones. The heat allows the therapist to perform a deeper massage and effectively penetrate layers of tension. Glacial Shells can also be offered to deliver an ice treatment to compliment the Lava Shells. Lava Shells are portable, non-porous and Eco-friendly. They can be used to treat a number of concerns from easing aching muscles to alleviating symptoms of IBS. Lava Shells have a unique shape they become an extension of the therapist's hands, deploying deeply therapeutic relief to where it is needed.
Relax Full Body Massage Course
This full day course is our complete Lava Relax Body Massage training. Learners will learn about Shared Beauty Secrets and Lava Shells and how the concept works to deliver a seamless treatment of continual heat and touch. Health and safety is a key part of training to ensure a full understanding of heat management. We will supply a workbook to use as a reference after training with a comprehensive step by step guide. Learners will also have access to our online video for support during practice sessions after the training.
The cost of the training includes your training fee for the day and stock needed to perform the case studies and treatments following the training day.
Once booked onto training you will receive all the information pre and post for your chosen Lava Shell training course.